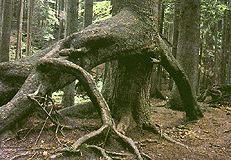 The complex of the very well preserved primeval forest called Boubínský Prales (Boubín Forest) lies not far from the peak of the Boubín mountain. The reserve for the protection of the forest was established by the forest master of the Schwarzenbergs' domain Josef John and it is the third oldest reserve in Bohemia. The original protected area was 150 ha large.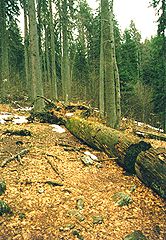 The calamity in 1870 ravaged most of the reserve and only about 50 ha stayed in good condition. This smaller area was established a nature reserve in 1933. Then the reserve was enlarged and it is 666 ha large in present. The core of the primeval forest is not open to the public, because plenty of tourists, who visited it in past, damaged roots of trees. It was the reason, why the so-called "King of Spruces", the huge tree 58 m high with 30 cubic metres of wood, fell down in December 1970. After this event the most valuable part of the forest was closed for public.
In 1979 the instructional trail was founded in the reserve. The circular trail runs along the forest paths around the core of the forest.