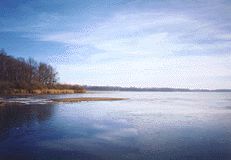 Velký Tisý ("Big" Tisý) is the fifth largest pond in South Bohemia and it was built, like the Dvořiště pond, on the Miletínský Potok (Miletín Stream) about 10 km north-west of the town Třeboň near the small town Lomnice nad Lužnicí.
The pond, which was finished in 1505, was the first important work of the well-know Czech pond designer Štěpánek Netolický. Later it was enlarged by his successor Jakub Krčín.
The revetment is 1,850 m long and 5 m high and it holds more than million cubic metres of water. The area is about 317 ha.
The pond has been a part of the valuable nature reserve Velký a Malý Tisý (Small and Big Tisý) since 1957, which is protected by UNESCO.