The small town Třešť lies about 15 km north of the town Telč in the south-western part of the Českomoravská Vrchovina (Czech-Moravian Uplands) on the Třešťský Potok (Třešť Stream), 545 m a.s.l.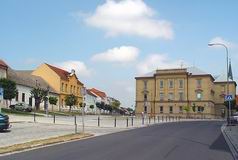 Třešť was probably founded in the first half of the 14th century near the finding places of silver. The first mention originates from 1350. In the second half of the 14th and in the 15th centuries the village was under the ownership of the Šternberks. In 1463 it became a town.
The town was very well-known due to the production of Bethlehems. A lot of them have been preserved and some of them can be seen in the exhibitions in the near Roštejn castle.
The Renaissance chateau was built in Třešť at the end of the 16th century. It is surrounded with the large English park. The Church of St. Catherine of Siena stands in the surroundings of the chateau. It was founded in the 16th century as a German Lutheran church. The valuable sight is the Romanesque-Gothic St. Martin's Church, which is situated in the square.
The synagogue was built by the Jewish minority between 1824 - 1825. At the end of the Second World War (7th May 1945) the police of Nazi German (SS) attacked the sleeping town. Thirty four citizens were executed in the local prison on the same day. The monument, which was founded in the place of this execution, commemorates this event.