The village Ledenice lies 12 km south-east of the town České Budějovice, 515 m a.s.l.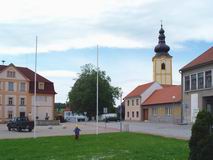 The history of the village dates back to 1291. There was a fortress and later the courtyard called Landštejn on the small hill near the village. It was destroyed in the 15th century. The small village below this yard was known as Ledenice pod Landštejnem ("Ledenice below Landštejn").
The most valuable sight in the village is the originally Early-Gothic St. Lawrence's Church from the beginning of the 14th century. The tower was added in 1782. In the first half of the 19th century the church was reconstructed. Most of the furnishings come from the 18th century.
The composer and collector of folk songs Ferdinand Sládek was born in Ledenice.