The village Chotoviny lies 7 km north of the town Tábor, 555 m a.s.l.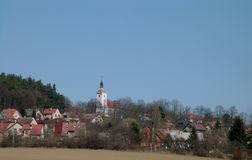 The history of Chotoviny is not well known. The village arose from the original small settlement with the small fortress. It was under the ownership of the Lords of Nechvalice at the beginning of the 15th century. The last owner was the important South Bohemian family - the Rožmberks.
The Baroque chateau stands in the village. The three-winged building with the polygonal tower was built between 1770 - 1780. The frontage of the chateau has the Pseudo-Renaissance appearance from the reconstruction in the 1870's. Hundreds of years old oak trees can be found in the park around the chateau.
The dominant feature of the region is the Church of Sts. Peter and Paul on the hill above the village. It was founded around 1380 and it was reconstructed many times. Its present Baroque appearance originates from the end of the 18th century. The Napoleonic tomb, which was built in 1815 in the style of the Doric church, adjoins with the sacristy. The chapel stands in the surroundings, near the spring of healing water not far from the church. It was a famous pilgrimage place in the 19th century.
There are nice views of the region from the church.