The pilgrimage place Montserrat, named after the famous Spanish pilgrimage place, lies on the wooded hill (562 m a.s.l.) about 4 km north-east of the town Slavonice.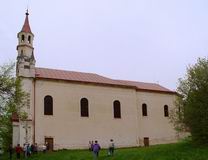 The Church of Our Lady of Sorrow of Montserrat was founded by the knight Bartholomew of Tannazoll-Zillu, the owner of the near village Cizkrajov and the hetman of the region of the town Jihlava. He was a soldier in Spain in 1640. He was wounded there and he promised, that if he was saved, he would make pilgrimage to Montserrat. He recovered from his injuries, kept his promise and at Montserrat he pledged, that he would build a chapel to honour Virgin Mary. Then, in 1651, he founded the chapel on the hill near his manor. In 1717 the chapel was rebuilt into a church. At the end of the 17th century it became a ruin. The church was rebuilt between 1858 - 1865 and it was the prime pilgrimage place for German speaking southwest Moravian border region until 1945. Up to this day, there is worshiped copy of statue of the Black Madonna of Montserrat, which the knight brought from Spain.
The single-aisled church has Gothic features and Neo-Romanesque facade. The furnishings are mostly in the Neo-Romanesque style and they originate from the end of the 19th century.
The church is accessible by the green mark leading from the town Dačice to Slavonice. Access by car is possible along the road from Cizkrajov.