The Dominican monastery with the Church of the Offering of the Virgin Mary is the oldest sight of the town České Budějovice. It was founded together with the town near the square. By the order's wishes it was built near the town walls and it became part of the walls.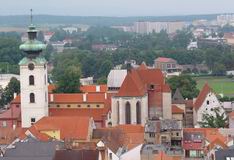 The monastery was founded about 1265. Its presbytery was finished before the end of the 13th century and it is the oldest architectural sight of the town. The three-aisled cathedral was finished in the second half of the 14th century. One interesting fact is, that for the building not only stones, but also bricks were used. The tower called Bílá Věž (White Tower) was added in the second half of the 15th century. The monastery existed till its closing in 1785 and the Dominicans were replaced with the Piarists and later they were replaced with the Redemptorists.
The church burnt down several times during its history, but it still has the original Gothic face (with the adjoining cloister). The original Gothic Bílá Věž tower was rebuilt into the Baroque style in 1772.
The former salt-house stands in front of the monastery in the square, which was used first as a cemetery and then it was rebuilt into the market place. The building is used as a museum of motorbikes at present.