The Telč chateau stands in the centre of the town Telč, which can be found on the index of cultural sights of UNESCO.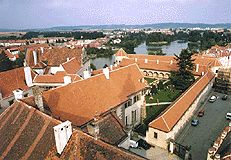 Originally it was a Gothic castle founded here in the second half of the 14th century. It comprised a palace and a chapel, built around the present Small Courtyard. It was fortified with enclosure walls (for protection against the town too) and with a moat. In the second half of the 16th century the owner Zachariáš of Hradec resided there and he rebuilt and enlarged the castle into a Renaissance chateau. The All Saint's Chapel was added and the large park around the chateau was founded. The chateau became a large residence. The sgraffito interior decoration comes from the same time.
The most important owners were the Lord of Hradec and the Lichtensteins.
The Renaissance halls with wooden waffle floors from the 16th century and valuable collections of weapons from the 17th century can be seen in interiors of the chateau.
The gallery of the Czech painter Jan Zrzavý and a branch of the regional museum (with the big mechanical Bethlehem and historical, archeologic and ethnical exhibitions) are located in the chateau.