The chateau stands on the south-western outskirts of the historical centre of the town Jindřichův Hradec. It was founded on a rocky spit above the Nežárka river and the Vajgar pond.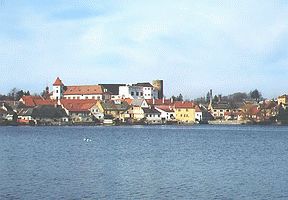 Originally it was a Gothic castle with three towers from the beginning of the 13th century. The Romanesque palace and chapel were added between 1260 - 1270. At the turn of the 16th century the castle was enlarged in the Gothic style and fortified.
At the end of the 16th century the reconstruction into the current Renaissance chateau started and it finished in 1597. At the beginning of the 18th century it was adapted in the Baroque style. In 1773 it was destroyed by fire and after that it was partially ruined. It was reconstructed at the beginning of the 20th century.
The chateau was a property of the Lords of Hradec, the Slavata and the Černín families throughout its history.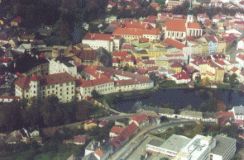 Entrance to the chateau is through the Gothic gateway, built in the middle of the 14th century, to the first courtyard (former base-court). The second courtyard was originally a moat. The core of the original castle is the third coutryard. Its oldest building is the monumental round tower called Hladomorna (Dungeon) from the beginning of the 13th century. It is connected to the Old Palace, which is a unique example of Gothic castle architecture. There is a rare Gothic cycle of paintings dating from 1338, the biggest in Central Europe at that time. The last part of the Gothic core is the Chapel of the Holy Ghost. The so-called Royal Palace was added to the chapel in 1560.
The dominant feature of the third courtyard is the Small Arcades and the Grand Arcades. Behind the Hladomorna tower there is the Červená Věž (Red Tower) called Menhartka with the so-called "black kitchen". The southern part of the third courtyard is enclosed by a Renaissance palace in Italian style with a pentahedral tower.
The promontory above the Nežárka river was rebuilt into a chateau park with the Roundel, a unique building in Central Europe, which was built at the end of the 16th century. There is a Renaissance fountain from the end of the 17th century in front of the Roundel.
| | |
| --- | --- |
| | |