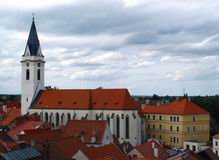 The dean's St. Gilles' Church is first mentioned in 1280. After the foundation of the monastery of the order of Austin Friars (1367) it was completely rebuilt and became a monastic church. In 1791 the church burnt down. The original Gothic vault in the presbytery was destroyed and a new vault was made in the Baroque style. The last large reconstruction was between 1897 - 1903. The tower was rebuilt into the Neo-Gothic style at that time.
The wall paintings in the church originate from the second half of the 15th century.
The monastery was founded by the Rožmberks in 1367 and it soon became an important South Bohemian educational and artistic centre.
The very well preserved cloister and a house with the adjoining Chapel of St. John the Baptist from 1380 are in the monastery. Most of other buildings originate from the 18th century.