The small town Stráž nad Nežárkou lies near the Nežárka river about 12 km north-east of the town Třeboň, 450 m a.s.l.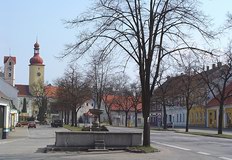 Originally there was a ford across the river protected by a castle in the second half of the 13th century (the name Stráž means Guard). The first mention of the settlement around the castle is from 1380, but it already was a town at that time under the ownership of the Lords of Jindřichův Hradec.
The originally Gothic parish Church of Sts. Peter and Paul founded in the 14th century stands below the square. It was rebuilt several times, the last reconstruction was in the 19th century in the Neo-Gothic style. Not far from the church there is a separated bell tower - the school adjoins with it in the present day.
The small chateau stands in the eastern part of the square. It was rebuilt from the original castle at the beginning of the 17th century, only the tower has been preserved. At the beginning of the 18th century the chateau was reconstructed into the current appearance in the Baroque style.
Between 1914 - 1930 the famous Czech opera singer Ema Destinnová lived a part of her life in the chateau.