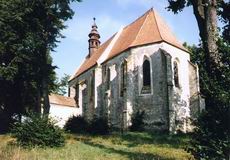 The pilgrimage Church of the Holy Ghost was built between 1478 - 1491 in the place of an older sacral building from the last quarter of the 13th century.
The two-aisled church is arched with the lierne and cross vaults (the side aisle with the gallery was added in 1677). The presbytery is arched with the tracery vault. The western portal is from about 1500, the southern one is a part of the Loretto Chapel, which was added in 1820.
The Baroque and Rococo furnishings originate from the 18th century.