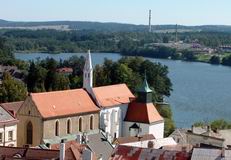 The Early-Gothic Church of St. John the Baptist was probably founded by the Teutonic Order about 1260. The construction finished as late as after 1450 and the church was renovated between 1891 - 1895.
The church comprised two unsymmetrical aisles and the younger presbytery (from the middle of the 14th century). The Gothic St. Nicholas' Chapel, which was built before 1369, adjoins the church.
The nave is arched with the lierne vault.
The Early-Baroque furnishings are from the 17th century. The valuable sights are the wall paintings from the 13th - 15th centuries.
The Minorite monastery was founded in 1369. Its four-winged arcade is arched with cross ribbed vaults and its walls are painted with Gothic and Late-Gothic paintings. The former chapter hall (present Draper Chapel), which was damaged by fire in 1801, originates from 1375.
The hospital was opened in the monastery in the middle of the 16th century, when the new hospital wing in the Renaissance style was built.